A Service of
Learn about Japan

"About Japan: Newbie to Knowledgeable" is my new book about Japan and things Japanese. This introduction to Japan and is a "must have" guide for folks who are new to this interesting but mysterious country.

9 11 2001
Misawa Date / Time
12/12/2017 3:56:49 PM
(Click Refresh to Update)
A free, public
service of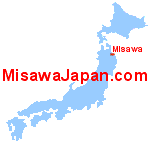 COMMUNITY NOTES
Updated - 8 Dec 17
Phone nrs for below activities are listed on the main Misawa Events page.

The Holiday Tree Lighting Ceremony is Dec 11 beginning at 4:45pm. Stop by and check it out. BTW, the road will be closed during the ceremony.

The Falcon Gate (POL Gate) will close on 17 Aug and not reopen until 18 Dec so they can do repairs and upgrades. The Main Gate and the Gettysburg gate will be open during this time.

The Ski Lodge and Snow Park on base are opening on Jan 6, technically. Once we get some snow, they will be ready to offer you a fun time.

Sign up now for one of Misawa ITT's trips to the Sapporo Snow Festivl. This is one festival you shouldn't miss while at Misawa. Contact Misawa ITT for info.
ITT also has trips to the Aomori Big Buddha, Tsugaru Tetsudo Stove Train, the Be Easy Brewery, Hakkoda Snow Monsters and the Iwate Children's Forest in Jan. Stop by ITT for more info.
For other trips and tours, check out Misawa ITT at the ITT website".

Outdoor Rec offers ski and snowboard trips to various resorts throughout the winter. Check the Leisure Times or go by Outdoor Rec to check the schedule.

The Outdoor Rec center in the Weasle's Den has a Winter Fest featuring outdorr gear at holiday savings. Takes place on DEc 8 from 5-9pm and 9 Dec from 11am to 5pm.

The Potter Fitness Center has a powerlifing competition on 16 Dec. wieght in at 8am and competitio at 9. Sign up now at the fitness center.
The Potter also has an Aerobathon on 13 Jan. Contact the fitness center for details.

The Overstreet Memorial Library offers Holiday Story and Craft Time on 12 Dec from 10:309 to 11:30am.

The New Year Event at the club happens on 31 Dec from 7pm til midnight with live entertainment from 7pm til 1am. Call the club for details
The clubs will be closed often for the rest of the year due to organizational Christmas Parties. Chec with them before planning anything at the Clubs.
The clubs will be closed entirely on 25 Dec, 26 Dec, 1 Jan and 2 Jan.

The Himberg Pool will be closed for repairs through March of 2018.

The Arts and Crafts Center has a Stocking Holder making class on 29 Nov from 6 to 8pm.

The Community Center has Santa Claus. Mrs Claus and Rudolph costume for rent. Reserve yours at the center now.

The Community Center hosts a Gingerbreat House Contest. Entries are due at the center by 5pm on 7 Dec. Call for details.

Misawa Ticket and Tours office will help you get your US Tourist Passport. Details here.

The Education office holds monthly Officer Commissioning briefings for folks who what to pursue a oommission on how to submit a commissioning package. Briefing takes place in Bldg 653, room 219A on the last Wednesday of each month at 1pm. call the Education Center at 226-4201 for more info.

See the most current 35FSS Facility Directoryhere

the Youth Center offers Hip Hop, Ballet, Taiko Drum, Tumbling classes. Call the center at 226-3220 for info.

The Lunney Youth Center is now open to rent for parties on weekend nights. Also they are now taking registrartion for Flag Football. The season starts in August. Register by 26 June. 226-3220 for info.

Did you know that Misawa City has a bus service that goes all around town? For 100yen you can ride all over town. The schedules are a little confusing but I have posted them and the route. Bus data

For info about getting around Japan on your own, take a look here.

Be sure to check out the Long Term info page for things that just don't change.


---