A Service of
Learn about Japan

"About Japan: Newbie to Knowledgeable" is my new book about Japan and things Japanese. This introduction to Japan and is a "must have" guide for folks who are new to this interesting but mysterious country.

9 11 2001
Misawa Date / Time
10/19/2017 4:49:54 AM
(Click Refresh to Update)
A free, public
service of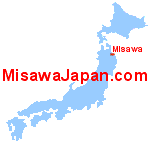 COMMUNITY NOTES
Updated - 7 Sep 17
Phone nrs for below activities are listed on the main Misawa Events page.

The Falcon Gate (POL Gate) will close on 17 Aug and not reopen until 18 Dec so they can do repairs and upgrades. The Main Gate and the Gettysburg gate will be open during this time.

The Potter Fitness Center offers Alpha Warrior Timed Competition Featuring Brent Steffensen, Rebekah Bonilla and Brittany Reid on 7 Oct from 10am til noon outside the gate at Sky Plaza. Its free.

The Clubs host:
National Chocolate Cubcake Day on 18 Oct. free cupcakes while the last
Bosses's Day on 16 Oct. Bring your boss to luch and get $1 off.
American Beer Day, Oct 27 fro 4pm til midnight. $1 draught beer in the Sports Bar.
The Rocky Horror Show, live on stage. 28 Oct. Tickets on sale now. Als Carte Food from 6-8 and show at 8pm.
On 3 and 4 Nov there will be additional showing f The Rocky Horror Show at 8pm but w/out dinner.

Halloween Events:
Spooky Bingo, Oct 13, ages 18 and over, Sales at 6pm, games at 6:30pm.
Kids Halloween Party at the Community Center, 28 Oct, 1-3 PM at the Weasles'Den.
Kids Halloween Baxh at the Bowling Center, 28 Oct, 6-9pm, ages 17 and under.
Monsters and Mocktais at Parent's Night Out at the Teen Center, 27 Oct, 6:30 - 10:30pm, Members $10, non members $15. Register by 5pm on 25 Oct.
Lunney Spooktacular Parent's Night Out at the Youth Center, 27 Oct, 6:30 - 10:3pm, Members $10, non members $15.
Halloween Scavenger Hunt at the Library on 29 Oct, 10 - 11am.
Club Halloween Event with Rocky Horror Show. see above.
Night Paintball Pumpkin Smash and Costumr Trash. Nov 3, 5-9pm. The Bowling Center has an American/Japanese bowling tournament on 29 Oct. Register by 25 Oct to compete. $35 per person.

The Air Force Art Contest is calling for entries from 1 to 30 November. There are a Novie and Accomplished categories for adults and three age groups for kids. www.35fss.com for details.

Misawa Itt is going to a brewery, apple picking, the Matsushima seaside, Asamushi Aquarium, Ryusendo Caves and Sendai outlet malls/Kirin beer factory in Nov. Check them out on www.35fss.com for details.

Outdorr Rec is going to Hakkoda, Hachikuro Hot Springs and Lake Towada for Kayaking in Nov. Details on the 35FSS website above.

Enter to win a FREE turkey or ham curtesy of your Misawa MILITARY AUTOSOURCE – 10 winners!!
Click Here to enter. Custom build your next new vehicle exactly how you want it, deliver it where you want it and when you need it AND save THOUSANDS of YOUR DOLLARS with our Exchange negotiated prices! No haggling and stress-free!! The INFO is free; mail meat aking@militarycars.com or call/ text: 080-3081-9807 or Find me on Facebook.

Outdoor Rec offers trips to Hakkoda Mountains, Mt. Iwate, Nantaki Falls, and Lake Towada in October. Check with them now for details and tickets.

The Himberg Pool will be closed for repairs from Sep 11 through March of 2018.

Thr 35FSS offers live statside entertinment when Everclear and Vertical Horizon perform at Sky Plaza. The show is Free and happens on 8 Oct. Vertical Horizon goes on at 11:30am and Everclear takes the stage at 1pm.

21 Oct is the date for the Potter Fitness Centers Duathalon (biathaon) featuring running and cycling. Contact the center for details.

For other trips and tours, check out Misawa ITT at the ITT website".

Misawa Ticket and Tours office will help you get your US Tourist Passport. Details here.

The Education office holds monthly Officer Commissioning briefings for folks who what to pursue a oommission on how to submit a commissioning package. Briefing takes place in Bldg 653, room 219A on the last Wednesday of each month at 1pm. call the Education Center at 226-4201 for more info.

See the most current 35FSS Facility Directoryhere

the Youth Center offers Hip Hop, Ballet, Taiko Drum, Tumbling classes. Call the center at 226-3220 for info.

The Lunney Youth Center is now open to rent for parties on weekend nights. Also they are now taking registrartion for Flag Football. The season starts in August. Register by 26 June. 226-3220 for info.

Did you know that Misawa City has a bus service that goes all around town? For 100yen you can ride all over town. The schedules are a little confusing but I have posted them and the route. Bus data

For info about getting around Japan on your own, take a look here.

Be sure to check out the Long Term info page for things that just don't change.


---